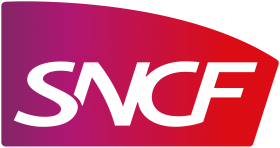 SNCF
The business in figures:
SNCF is one of the world's leading passenger transport and freight logistics groups. Organized in 3 EPIC (Établissement public industriel et commercial – public industrial and commercial divisions), SNCF covers 5 different sectors:
SNCF Voyageurs: Regional and inter-regional public transport, mass transit, medium and long distance transport including international, distribution and management and development of French railway stations
Keolis: Mass transit – Public transport in Europe and worldwide.
SNCF Logistics: Freight transport and logistics
SNCF Réseau: Management and operations for the French rail network
SNCF Immobilier: Management and development of property and land assets

In Pays de la Loire, the SNCF group employs 8,500 people, running 550 trains a day, which represents 27 million passengers a year, and operates the tram and bus networks in Angers. Laval and Le Mans. IDVROOM, ranked as the 2nd carpooling business after Blablacar, has its headquarters in Angers. In 2017, SNCF made 132 million purchases from 1,400 Loire based SMEs/SMIs and VSE investing 245 million euros.

To become the No.1 leader in mobility services of the future, we have created the SNCF of the future experimenting in capturing IOT (Internet Of Things) on trams, trying out video payment counters in stations and creating a platform to inform customers about special travel deals.