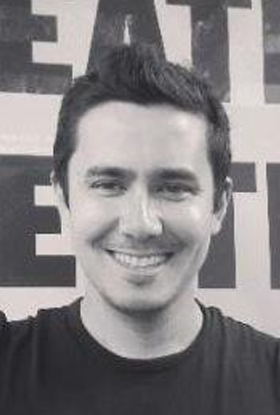 Friday
09h40 - 10h35
Maxi Room
Friday
10h35 - 11h30
Maxi Room
Zack PRAGER
Founder & Developer @Ransomly, Inc.
Zack a développé des logiciels promouvant le bien-être depuis qu'il a achevé son cursus en psychologie positive appliquée à l'UPenn en 2011. Son travail a été présenté sur ABC, CW, CBS, San Francisco Chronicle, Boston Herald, ainsi que sur d'autres podcasts, à la radio, TV et sur les organes de presse en ligne.
Parmi ses anciens projets, on compte GratitudeBucket.com, un réseau social constitué autour de l'appréciation et de la reconnaissance des forces des autres, ainsi que Nudge Kick, une appli pour soutenir la volonté. Il a aussi travaillé sur des aspects plus techniques lors du Projet Mondial du Bien-Être à l'UPenn et Bluezones.
Son tout dernier projet, Ransomly, créé des "Espaces Pour l'Humanité" libres de distractions et d'applis, afin que les personnes puissent se déconnecter de leurs téléphones et se connecter les unes les autres plus souvent. Les premiers résultats des recherches confirment ce que beaucoup d'entre nous suspectaient déjà : trop de temps passé devant les écrans dérange nos relations et contribue à notre malheur. Il est donc convaincu qu'il est temps d'aménager des espaces sans technologie, à la maison mais aussi au travail.
Vidéo sur Ransomly : https://www.facebook.com/ransomly/videos/1429704640393739/
Zack has been developing software that promotes well-being ever since he did his graduate work in applied positive psychology at UPenn in 2011. His work has been featured on ABC, CW, CBS, San Francisco Chronicle, Boston Herald, as well as other podcasts, radio, TV, and online media outlets.
His past projects include GratitudeBucket.com, a social network built around appreciation and recognition of the strengths of other and Nudge Kick, an app to bolster willpower. He has also worked on the technical side of things at the World Well-Being Project at UPenn and Bluezones.
His latest project, Ransomly, he is creating distraction-free, app-free "Spaces For Humanity" so people can disconnect from their phones and connect with each other more often. Early research confirms what many of us already suspect : too much screen time disrupts our relationships and contributes to our unhappiness. So he believes it is time to carve out tech-free spaces in our homes and workplaces.
Video on Ransomly: https://www.facebook.com/ransomly/videos/1429704640393739/