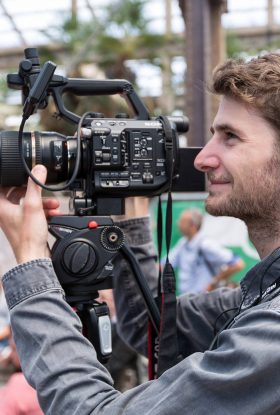 Romain Briolet
Freelance Filmmaker, Contributor @Surfing L.A.
Après avoir décroché son master 2 en management de la communication et des médias, Romain a créé sa société de production audiovisuelle en 2015. Il travaille aujourd'hui avec des acteurs du réseau numérique nantais tout en développant ses projets personnels (websérie « Over There »…).
Son stage de fin d'études à La Cantine lui a permis de s'investir dans la production audiovisuelle du Web2day. Depuis 2015, il encadre l'équipe vidéo de la Newsroom du Web2day pour vous faire vivre les coulisses de l'événement.
After having obtained his masters degree in management of media communication Romain created his own audiovisual production company in 2015. Nowadays he works with professionals involved in the digital network of Nantes as well as developing personal projects (the web series « Over There »…)
His involvement in Web2day resulted from his internship at La Cantine at the end of his studies. Since 2015 he has been part of Web2day's Newsroom video team which shows you what goes on behind the scenes at the event.