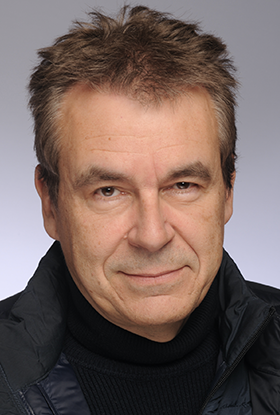 Vendredi
10h20 - 10h35
Mediacampus, Forum
Vendredi
10h35 - 11h35
Mediacampus, Forum
Eric SCHERER
CEO, innovation, prospective, médialab @france télévisions
Eric Scherer est aujourd'hui Directeur de l'Innovation, de la Prospective et du MédiaLab, après avoir été Directeur de la Stratégie de l'AFP.
Journaliste et dirigeant de médias, il a travaillé à Reuters et à l'AFP, comme correspondant à l'étranger au Japon, rédacteur-en-chef, directeur régional en Amérique du Nord, président de filiale à Londres, entrepreneur web, blogueur, professeur en nouveaux médias.
Il publie chaque semestre un Cahier de Tendances médias. Il est l'auteur d'un glossaire sur la Révolution Numérique (Dalloz) et a d'un essai aux PUF « A-t-on encore besoin des journalistes ? – Manifeste pour un journalisme augmenté».
Administrateur du CFJ à Paris et de l'Ecole de Journalisme d'Aix-Marseille, de l'IDATE , de Cap Digital et du hub France IA, il est vice-président du GESTE, et co-dirige un département de recherche au Collège des Bernardins sur le thème de « l'humanisme numérique ».
Son blog : meta-media.fr
Eric Scherer is Director of Innovation and Future Media at France Televisions.
He has spent his career working for Agence France-Presse, Reuters and AFX News in a wide range of functions spanning journalism, management, business development, strategy and new media in locations across the globe including Japan, North America and the UK.
He very often blogs at meta-media.fr about his favourite subject: all aspects of the digital revolution and how media industries should adapt and surf the accelerating pace of change. He teaches Entrepreneurial Journalism, is a regular speaker at conferences in Europe, and is the author of a glossary La Révolution Numérique (Dalloz 2009), and an essay Do We Still Need Journalists? (PUF 2011).
You can see his LinkedIn profile here and follow him on his blog meta-media.fr and on Twitter @EricScherer.