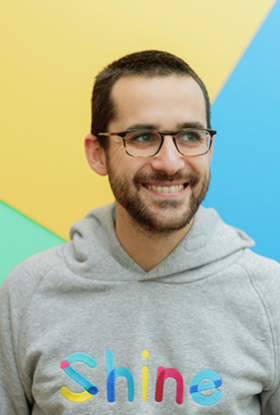 Mercredi
17h30 - 18h00
Chapitalk
Mercredi
16h30 - 17h30
Chapitalk
Nicolas REBOUD
CEO @Shine
Nicolas a 33 ans et plusieurs expériences de création d'entreprises derrière lui. Sorti de HEC en 2008, un temps consultant, il se lance dans l'aventure entrepreneuriale en 2010 en cofondant Mayoz, revendue en 2013.
Depuis, il a lancé une autre aventure, Printic, elle aussi revendue, à M6. Il continue d'accompagner les équipes jusqu'à janvier 2017 et la création de Shine.
Nicolas est aussi membre du board et trésorier de l'association France Digitale.
Nicolas is 33 years old and already has plenty of business creation experience behind him. Leaving HEC in 2008, where he had been a consultant, he set off on his entrepreneurial adventure by co-founding Mayoz, which he sold on in 2013.
Since then he has launched another venture, Printic, which he also sold, to M6. He continued working alongside the teams until January 2017 and the creation of Shine.
Nicolas is also a board member and is the treasurer of France Digitale.